Heya everyone! I'm pretty insulting in this blog post, but that's it. They're just bad names, nothing threatening. If you threaten anyone, or even worse, threaten their family, regardless of what side you think they're on or how bad you think they are, you are literal human trash and don't deserve to be on this planet. Don't do it.
I rarely participate in boycotts. They're terrible coordination problems, and almost never accomplish anything. But every once in a while something is so heinous that I can't morally support a company with my dollars anyway. Today, that company is StarDock.
I love StarDock's games - I've sunk several hundred hours into Galactic Civilizations 2, and highly anticipated doing the same for their new Gal Civ 3. But today I saw several tweets from their CEO, and was blown away by how much of a sexist fucking jackass he is.
It started with an offensive comic drawn about Zoe Quinn, repeating the lie-that-won't-die about her sleeping with game reviewers to get them to give her games good review scores:
(The artist took down their comic, so I'll honor their intent and not show it either.)
Sometime a little later, the comic artist mentioned how much they loved doing comics for GG, which prompted Brad Wardell, StarDock CEO, to respond by encouraging them to apply to StarDock as an artist.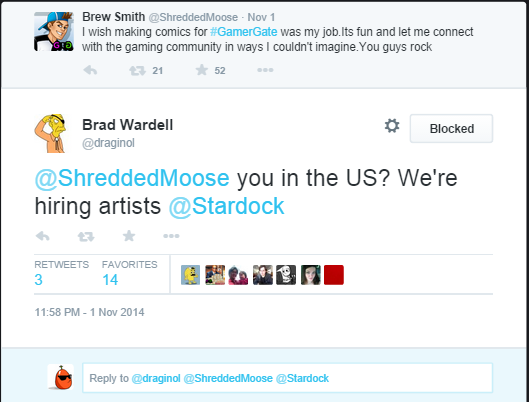 This is some bullshit by itself - the person's a half-decent artist, but they're being explicitly courted due to their contribution to a harassment campaign.
But it got really bad afterwards. Zoe complained on Twitter about this behavior, and Brad went off the fucking deep end calling her a "liar" and explaining why she is so "reviled".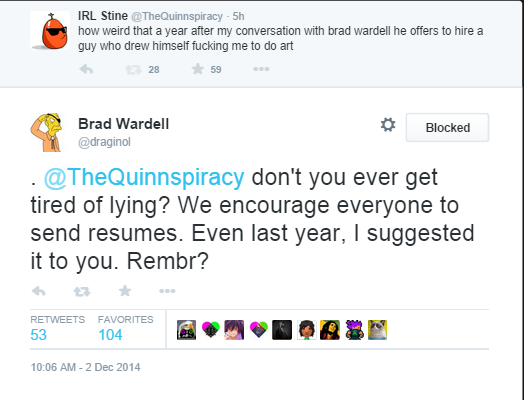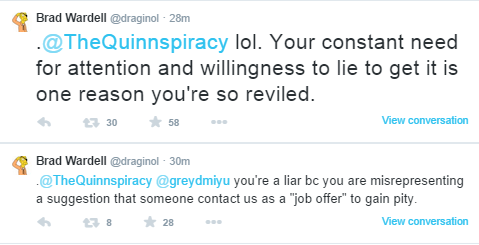 This seemed astonishing to me - a highly visible gaming CEO, harassing a woman and lying about his own actions? So I checked the rest of his Twitter feed, and lo and behold, he's a GamerGater and a complete dick.
Wow. I can't support someone who's that much of a jerk, willing to harass and support the harassment of innocent people, and then lie and misrepresent his own actions. I really wanted to play more of his company's games, but I've already got plenty of backlog to burn through, and I don't need to throw money at that trash. I'm boycotting StarDock for the foreseeable future.
This is almost literally the tiniest sacrifice I can make, costing me almost nothing at all, but every little bit of support helps for those people dealing with this harassment every day. I support Zoe Quinn and all like her who are being abused by the misogynistic hate group called GamerGate, and I encourage all of you to do so too.
---
Updated Dec 21 to remove comic, fix some pronouns, and add a disclaimer, after having a polite conversation with Brad.